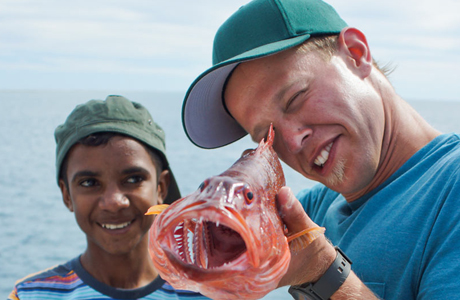 NITV switches on with Bushwhacked!
NITV on SBS4 (channel 34) will be a new digital free-to-air service dedicated to Aboriginal and Torres Strait Islander content. The channel will include a variety of genres including children's content.
The 'switch on' at 12 pm on 12 December 2012 will be an historic day for Australia, as the service will become available to all Australians.
The children's program line up on NITV will commence with Bushwhacked! which will run at 4.30pm and 6am on weekdays on channel 34, from 4.30pm on 12 December.

Bushwhacked! is an adrenalin fuelled Aussie adventure featuring Brandon Walters (of "Australia" fame) and Kayne Tremills (from ABC's Studio 3) as they set off on the adventure of a lifetime to remote corners of Australia, learning about Indigenous rites and culture and weird and wonderful wildlife. The series is also showing on ABC3.

Bushwhacked! is a North One television production for NITV and ABC3, distributed internationally by the Australian Children's Television Foundation. ...