Double win for Language of Belonging!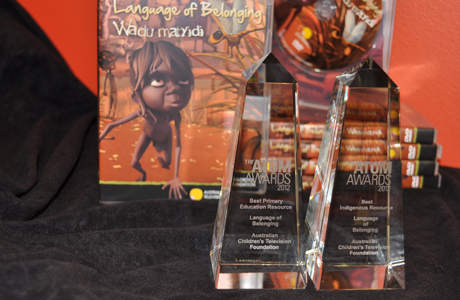 Language of Belonging – Wadu Matyidi has won not one, but two awards at the 2012 Australian Teachers of Media (ATOM) Awards!
The education resource received the 'Best Primary Education Resource' and 'Best Indigenous Resource' awards at the ceremony held in Melbourne on Wednesday 21 November.
This year not only marks the 30th anniversary of the ACTF, but also of the ATOM Awards, which celebrate the extraordinary achievements of Australian and New Zealand media content producers in the industry and education sectors.
Language of Belonging is a multi-platform resource (DVD and website) based on the Indigenous animation Wadu Matyidi and the five behind the scenes mini documentaries. Designed specifically for Primary-aged students, this diverse learning program explores Adnyamathanha language, culture, stories and traditions, encouraging students to develop their own portfolio and cultural understanding. (Read more …)
Language of Belonging is available for purchase from the ACTF shop.
Further information about all of this year's award winners and finalists are available at the ATOM Awards website. ...