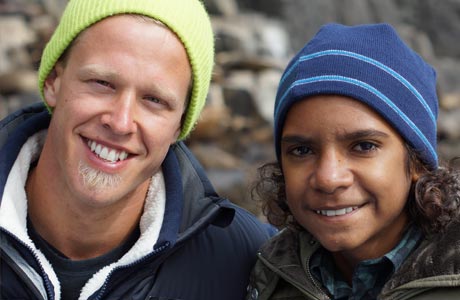 Bushwhacked!, a 13 x 24 minute documentay adventure series, will have its world premiere on Saturday 6 October on ABC3 at 5pm... It will also be launched by the ACTF to the international market at MIPCOM, with an episode screening for the first time during MIPCOM Junior.
Series hosts, Brandon Walters (of 'Australia' fame) and ABC Studio3's Kayne Tremills, set off on the adventure of a lifetime to remote corners of Australia, learning about Indigenous rites and rituals and weird and wonderful wildlife. This is predominantly a fun-fuelled, adrenalin-pumping, fast-paced adventure following these two colourful characters – one an ice cool bushman; the other a skateboarding city-slicker who's never been into the heart of Aboriginal Australia.
Chasing down dangerous spiders, killer sharks and venomous snakes, as well as friendly penguins and loveable turtles amongst other rare and endangered native Australian animals, the boys are constantly kept on their toes. And adventure is always calling as they challenge each other with rock climbing, skydiving and zip-lining to name a few!
Bushwhacked! is a North One Television Production for ABC3 and National Indigenous Television (NITV), distributed internationally by the Australian Children's Television Foundation. Series Producer/Writer is Dan Goldberg, Senior Producer is Lester Jones and the Executive Producers are Adam Kay, Bernadette O'Mahony and Thierry Bled...
Bushwhacked! is to be launched by the ACTF at MIPCOM 2012...