dirtgirlworld News & Events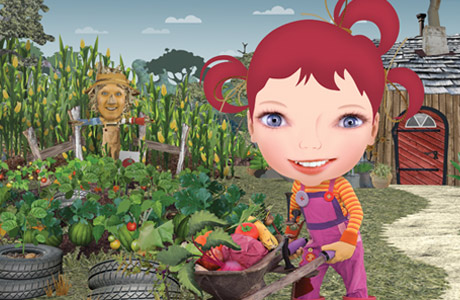 Download free activities for World Environment Day:
dirtgirlworld Let's Go Green ( pdf file, 709kb)
dirtgirlworld Trees ( pdf file, 550kb)
dirtgirl rocks the planet for World Environment Day - 5 June
Preparations are well under way for dirtgirl's first ever truly live gig on stage at the Memo in St Kilda (Melbourne) with the buzzbees, the band she has specially brought together for this very special event at 10am on Tuesday 5 June.
dirtgirl's eco-carnivale
Across Australia, teachers and children from 17,000 kinders, day"care centres and primary schools are being invited to join in the fun and organise their own eco"carnivale to raise awareness and funds to 'eco"up' their school or centre, including buying water tanks, garden beds, seeds, tools, whatever they need.
A website featuring ideas for creating an eco"carnivale event and providing the opportunity to register events has been launched at www.dirtgirlworld.com/worldenvironmentday
Sustainable Living Festival Melbourne
On the 18 & 19 February, dirtgirl and a band of dedicated helpers created the first dirtgirlworld climate"carnivale event at the Sustainable Living Festival at Birrarung Marr on the banks of the Yarra in Melbourne. With almost 60,000 walk-bys and 7,000 visitors to the carnival event, which included new takes on old games including slam junk, fishing for rubbish, slam 'em down and other kid-powered fun times. 'the eco factor' – the new dirtgirlworld show especially written for Showtime Attractions – attracted a capacity crowd at Greehouse.
SLF was also the first appearance of our new scrapboy costume character and he and his workers from Melbourne Bikefest checked over and added dirtgirlworld flags and recycled hi-viz gear to almost 900 children's bikes in 8 hours over the two days.
eco-store News
During the early months of this year, we've added the lovely dirtgirlworld greeting cards range from Earth Greetings and we now have two great new songs dance all day and the eco"hoedown available to download. We've also been giving away new downloadable assets, such as the bike flags and t"shirt transfers from the Sustainable Living Festival and a new series of monthly eco"calendars – which also feature a handy planting guide for the month – which are special offers to the 1,500 readers of our new bi"monthly newsletters. If you haven't registered for the newsletters yet, or if you have content you would like included in future editions, please contact maree@dirtgirlworld.com