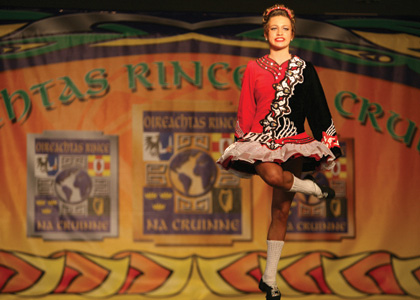 The ACTF launched Dancing Down Under, a 10 x 24 min observational documentary/reality series, at MIPTV in March/April. Already pre-sold to Irish language broadcaster TG4, buyer feedback at the market was positive, with many commenting on how much they liked the concept. Many buyers requested a screener, happy to consider what a number of them welcomed as "something different".
Dancing own Under follows the amazing adventures of a group of Australian kids as they vie for the winner's trophies in the extraordinary world of competitive Irish Dancing.
The series begins with four main characters - Ceili, Thommy, Brent and Carina as they compete at the Australian National Irish Dancing Championships in 2010. Their shared dream is to qualify to compete in the 2011 World Irish Dancing Championships in Dublin Ireland. Despite a dramatic series of triumphs and disappointments, all four dancers travel to Ireland and dance on the world stage. What happens to them, their families and teachers along the way is dramatic, funny and tragic as they dance against the best of the best in the world.

Dancing Down Under is produced by Veronica Fury of Wild Fury Productions and distributed internationally by the ACTF. The series has been pre-sold to ABC3 and TG4 (Ireland).
Screeners are available by contacting the ACTF Sales Team
...