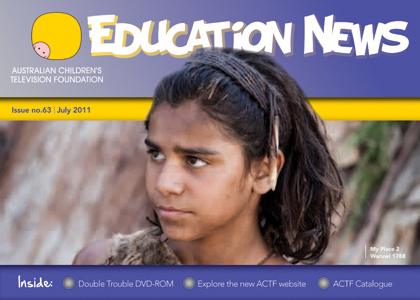 Latest Education News available!
Education News is the quarterly education newsletter of the ACTF, which includes the latest catalogue of ACTF productions as well as programs and teaching resources created by other Australian producers...
The latest edition of the ACTF Education News is available online now. Articles include:
My Place is back! BIGGER & BETTER
Following the enormous success of My Place series 1 (2008-1888), the ACTF takes great pleasure in introducing My Place series 2 (1878-1788 and Before Time). My Place is based on the Nadia Wheatley and Donna Rawlins picture book introducing a child's view of the history of Sydney through the eyes of 26 kids over 260 years. Each half hour episode is set 10 years earlier than the one before, but always in the same place...
Double Trouble: A contemporary resource supporting Indigenous perspectives
The ACTF has produced a DVD-ROM resource for teachers and students (Years 5-9) wishing to use Double Trouble in the classroom. The Double Trouble DVD-ROM is rich in content that examines identity, relationships, belonging, ancestry, stereotypes, adolescence, growth and development. The DVD-ROM replicates the content of the Double Trouble interactive website developed by the NSW Department of Education and Training (DET) and makes it available to all teachers, in all states and territories...
Trop Jr call for entries
The world's largest short film festival for kids, by kids is once again inviting young filmmakers to unleash their creativity on the big screen. Entries for the junior Tropfest is open giving filmmakers aged 15 years and under an opportunity to show off their talents and walk the red carpet for the first time...

Visit our Education News Publications page for this and previous editions.