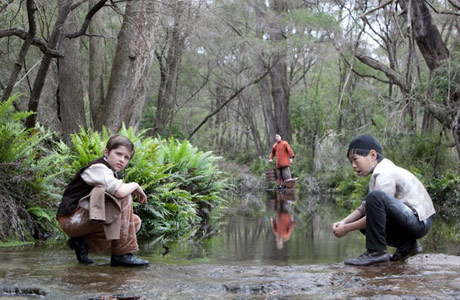 My Place 2
Don't miss the highly anticipated second series of award winning My Place. The weekly broadcasts begin Sunday 26th June at 5pm on ABC3*.

The second series continues its adaptation of My Place, the children's book written by Nadia Wheatley and illustrated by Donna Rawlins. This time we start in 1878, travelling back through each decade of Australia's history to 'Before Time', and each story is told by the child who lived there. The series includes all characters from the book and introduces us to three new characters; Dan (1788), Waruwi (1788) and Bunda (Before Time).

In line with the broadcast, the ACTF will release an exciting range of educational materials designed to support teachers in exploring issues and contexts presented in My Place, both the book and TV series.
Available July, the new edition My Place Teachers' Guide (DVD-ROM) will feature all original series one resource materials (History, English and Media Literacy) combined with an extensive range of new content from series two – an additional 39 clips, teaching activities for History and English, an extended Decade Timeline, Behind the Scenes content, and more. The resource also includes a bonus Geography resource developed in line with the new Australian Curriculum, in partnership with the Geography Teachers' Association of Victoria (GTAV).
The award winning My Place for Teachers website at www.myplace.edu.au, developed with Education Services Australia, will also launch its latest range of educational materials for season two, in line with the television broadcast.
Visit the ACTF shop for full list of all My Place education products and packages.
*Note: Australian schools with a Screenrights licence may record the series and retain it in their school library.
...