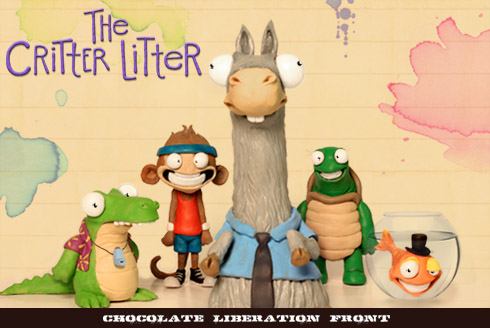 Independent Projects Investment Program - Board Approvals
At its meeting on 7th June 2011, the Board approved development investment in the following projects:
YoYo's Hidey House (live action/animationseries)
Stella Projects (NSW)
$12,500 towards sample storylines and scripts.
YoYo's Hidey House - based on the books of the same name by Jeanette Rowe sees YoYo and his friends play games of hide and seek but when they enter YoYo's hidey house , they are transported to exciting, imaginary worlds, where they discover exciting treasures to bring home.
The Critter Litter (animation series)
The Chocolate Liberation Front (VIC)
$6,500 towards developing a series bible and sample script.
The Critter Litter is a group of animals attending a human pre-school who have to try their hardest to act like human children. But as they try to fit in, they find it's not easy being human when you have hooves, fins or a tail and it's better really to just be themselves.
Little Lunch (live action comedy series)
Gristmill (VIC)
$20,000 towards storylines, scripts, series budget and preliminary schedule.
Little Lunch is adapted from the books written by Danny Katz and illustrator Mitch Vane and is a comedy series about what happens in the primary school playground told through the eyes of some distinctly identifiable children.
Brandon Goes Bush (documentary series)
North One TV Australia (NSW)
$20,000 towards shooting a mini pilot
Brandon Goes Bush is a 13 part wildlife/adventure series with Brandon Walters and his co-host criss-crossing Australia to track down some of the country's most amazing wildlife and hair-raising environments.
Extreme Adventures (live action drama series)
SLR Productions (NSW)
$12,399 towards a further script
Extreme Adventures cronicles the action packed travels of Sam Fox as he experiences adventure in his own backyard, and travels with his family to far flung places - coming face to face with crocdiles, bears, spiders and sharks. But trouble seems to find Sam so there is comedy and thrills at every turn.