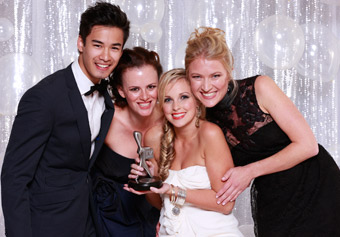 Dance Academy
Dance Academy
wins a Logie
Dance Academy has won the 2011 TV Week Logie Award for Most Outstanding Children's Drama.
The Producer, Joanna Werner, accepted the Award, with writer Sam Strauss and cast members Alicia Banit and Jordan Rodrigues.
The series has also won a Bronze Medal at the 2011 New York Festivals and a Gold Plaque at the 2011 Chicago International Film Festival (the Hugos).
Production of a second series is underway and will be delivered to the ABC in December 2011.
Dance Academy is produced by Werner Film Productions, in association with the ABC, ACTF, Screen Australia, Screen NSW, Film Victoria, ZDF Germany and ZDF Enterprises.