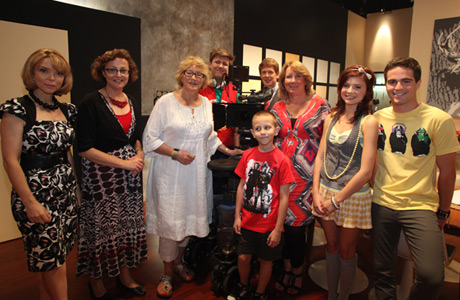 Mal.com
In 2010 the ABC, ScreenWest and the ACTF launched the "Westcoast Kids" initiative, inviting production companies in Western Australia to submit concepts for a sitcom pilot for ABC 3 to be produced in the ABC studios in Perth. Mal.com, created by Susie Campbell and Mark Shirreffs, was the successful concept and it went into production on 28th of March 2011.
Susie Campbell is the Producer, David Swan is the series director, Kim Goldsworthy is the series script producer.
Geoff Paine plays Mal, a famous local TV presenter who is really a robot. Ruby Hall, Luke Ledger and Gwy McKenna play three street kids who discover the secret and move in with Mal to help the network present him to the world as a regular family man.
ACTF Chair, Janet Holmes a Court, visited the production with Jenny Buckland, CEO, and Bernadette O'Mahony, Head of Development and Production, in March.