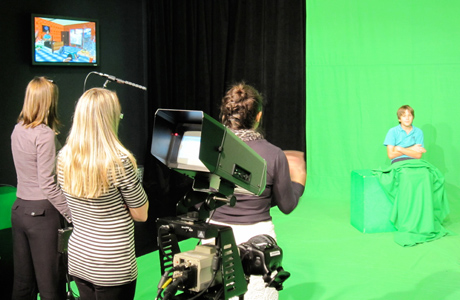 Kids Kahootz Challenge 2010
On 19 November 2010, 36 of Victoria's brightest young animators descended upon the Australian Centre for the Moving Image (ACMI), at Melbourne's Federation Square, to let their talents and imagination run wild at the second 2010 Kids' Kahootz Challenge (KKC).
In three teams, the students completed advanced workshops in green screen, digital game making and an exciting new session, 3D film creation. Each team was allocated a theme - Values, Identity or Civics and Citizenship - from the television series Animalia, all of which have been explored within the ACTF's Animalia: Primary Teaching Resource (DVD & DVD-ROM). Using a mix of role play and computer based workshops, the challenges required each student to use the Kahootz 3.0 3D digital authoring software to create an animated response.

Designed to give the public a greater appreciation of the quality of ICT teaching in Victorian state schools, the KKC provided an opportunity for students to further develop their level of skills and increase confi dence. It also provided students with an opportunity to be "Kahootz Ambassadors" in their school, running sessions in which they mentored and peer tutored their classmates. The Animalia challenge tasks were multi-disciplinary, incorporating ICT, English, Arts (media studies) History and Science, Personal Development and Interpersonal Learning.
The KKC is a partnership program between the Australian Children's Television Foundation (ACTF), the Victorian Department of
Education and Early Childhood Development (DEECD) and ACMI, with support and prizes generously donated by Dataworks.
For more details about upcoming 2011 KKC events, please contact Louise Bowe at eLearning, DEECD on (03) 9637 2172 or
bowe.louise.f@edumail.vic.gov.au