2011 Trop Jr winner announced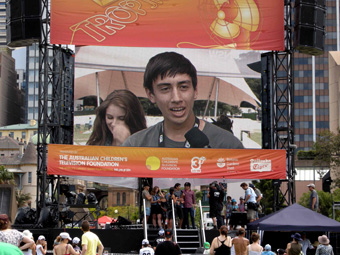 Simeon Bain, 15, from Gisborne in Victoria, has won the 2011 Trop Jr competition with his film Imagine. Simeon's film, shot on his mobile phone, tells the story of an average teenager who turns into a highly trained special operative. It was shot in various locations around Melbourne. Simeon attends Sacred Heart College in Kyneton. Simeon also won the Onitsuka Tiger Award for "fearless filmmaking."

The runner up was the youngest finalist, 11 year old Emily Williamson from Mayfield State School in Carina, Queensland,
with her film The Groundsman.

Trop Jr attracted more than 350 entries from children 15 years and under in 2011 and the 14 fi nalist films were screened on the big screen at the Domain in Sydney on 20 February 2011, as well as other venues around the country on the same afternoon.