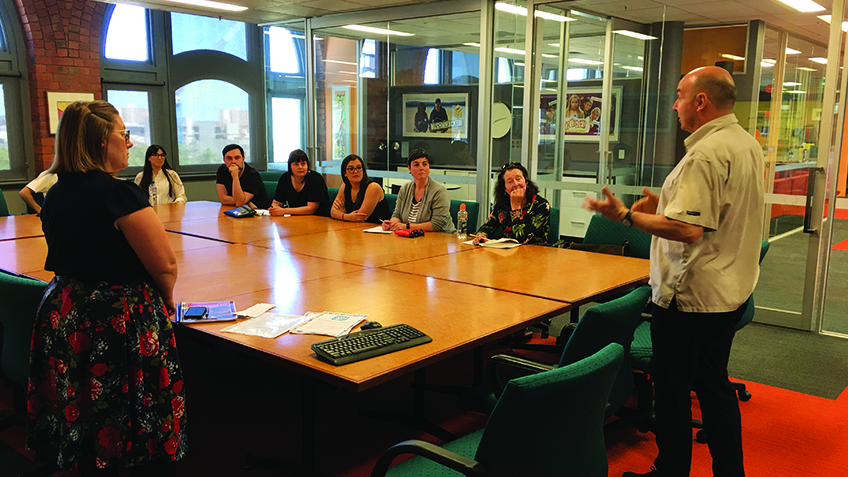 Which television shows and films do you remember watching when you were at school? And how have you used screen content in your teaching rounds so far? These are some of the questions we asked ACU pre-service teachers when they visited the ACTF.
As part of our ongoing face-to-face and virtual outreach to teachers, ACTF Education recently held two workshops for pre-service secondary teachers from the Australian Catholic University. Recalling experiences from their own schooling and recent teaching rounds, the pre-service teachers discussed using video to further students' understanding of curriculum content. The groups then brainstormed the endless additional ways to use screen content in secondary English classrooms, including:
Deconstructing the way we make meaning from visual texts
Examining the codes and conventions of different genres, such as documentaries
Text-to-screen comparisons for set texts
Closely examining dialogue to build students' phonics and word knowledge.
With increased opportunities to study visual texts in the English curriculum, ACTF Education always emphasises the importance of incorporating Australian content. We believe it is key for students to see stories representative of their own lives. It is affirming for young people to see familiar characters, landscapes and Australian accents on screens, and this recognition fosters connection and comprehension.
The ACTF Education team also introduced:
The factual entertainment series MY:24 and related filmmaking app, which scaffolds students in making their own short-form documentaries
Virtual learning opportunities for secondary students to learn from industry professionals, such as this year's Mustangs FC webinar
Classic ACTF documentary film First Day, which is available to pre-service teachers and academics at many tertiary institutions through the Kanopy streaming service. First Day follows the lives of 11 Australian children as they start primary school, and highlights the ways in which families prepare children for school. This film is being used by an increasing number of Australian universities in their pre-service teacher education.
We greatly enjoyed the opportunity to chat with the enthusiastic ACU cohort, and feedback from both students and lecturers was overwhelmingly positive. Good luck to those Masters of Teaching students who are beginning their careers next year!
ACTF Education is now accepting bookings for 2019 pre-service teacher workshops – both face-to-face workshops for Melbourne-based campuses, and virtual workshops for universities across Australia. If you are a pre-service teacher or academic wanting to arrange a 2019 group visit to the ACTF, or a virtual session with our education team, please contact: janine.kelly@actf.com.au.