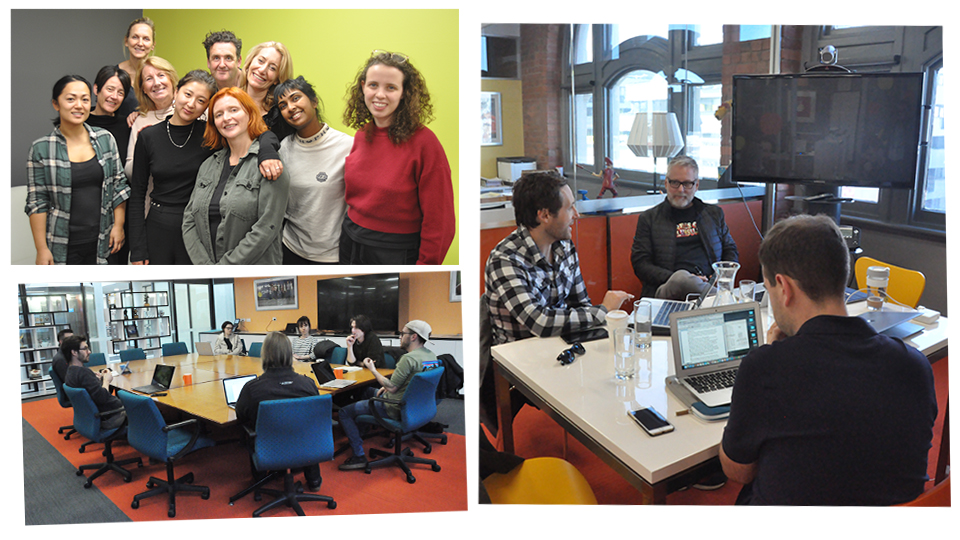 Ideas have been bouncing off the walls at the ACTF's Fitzroy office, following a series of visits from established and emerging creative teams.
Last week, the ACTF hosted four creative workshops at the office. Sydney-based production company, Buster Productions in the Esben Storm Writer's Room, Victorian children's content producers, Pirate Size Productions in the Boardroom and Brisbane's Hoodlum Active in a meeting space affectionately dubbed 'The Fishbowl', as well as the team from Space Boy who also slotted in over the course of the week. The office was buzzing with creativity!
The recent visits add to a growing number of production teams and creatives electing to use the ACTF's workspace to write and develop screen content. Throughout the year, the ACTF has welcomed Pop Family Entertainment, Sticky Pictures, Werner Film Productions, Wildflower Productions, Endemol Shine Banks, Tsvaga Pty Ltd, Spaceboy Pty Ltd and Deeper Richer to name a few.
The teams using the space range from producers of primetime entertainment series, to comedy, adult drama and (of course), children's series.
The ACTF has also had the pleasure of hosting a number of Australian Education-based organisations in 2018, including the Early Learning Association Australia (ELAA) and the Australian Teachers of Media (ATOM).
The ACTF staff love to see our space used for workshops, writer's rooms and readthrus – and we welcome enquiries from new and familiar faces within the industry – just contact the ACTF's Production Assistant, Ella Barton at ella.barton@actf.com.au.