Mustangs FC Cast Talk Gender, Diversity and Representation with Students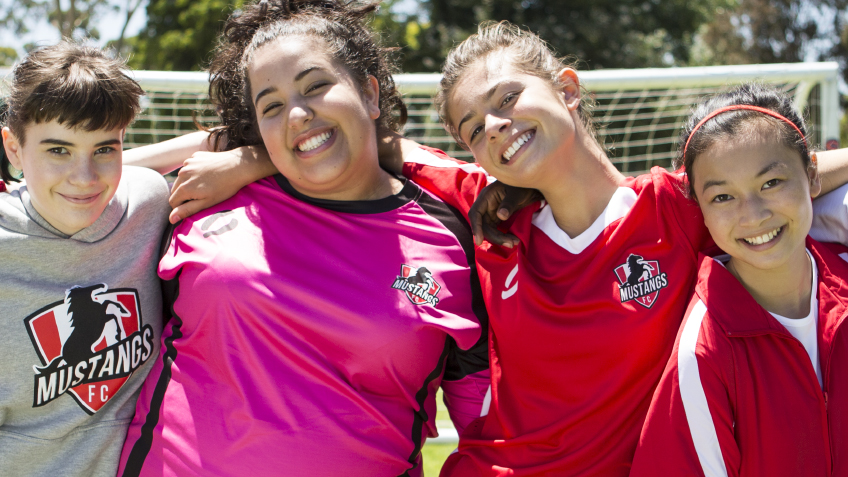 On March 23, cast members of teen drama series Mustangs FC visited the ACTF to participate in a live, online Q&A for schools Australia-wide.
Emmanuelle Mattana (Marnie), Ashleigh Marshall (Liv), Molly Broadstock (Bella) and Gemma Chua-Tran (Anusha) were quizzed by primary and secondary schools from Grade 5 to Year 10 on acting, gender stereotypes and women in sport.
The Mustangs FC series follows the story of Marnie and her best friend, Liv, who start their local football club's first all-female team. Against the odds, they stand united and overcome any challenge the club, the boys or the opposition can throw at them, all while wrestling with what it means to be a girl today.
Rose Park Primary School from South Australia asked the cast their impressions of how Mustangs FC has impacted young people.
Emmanuele Mattana, who plays Marnie in the series, replied:
"What I've gotten from fans is that the show is very inspirational. I think it inspires people to be themselves, discover who they are and to celebrate it. That's a part of how diverse we are. Not just in terms of our ethnicities, our shapes, our sizes, our colours – but, our personalities. We're a whole soccer team, but there's not a single one of us that gets left out," she said.
Cast members were also quizzed on what it's like to be a role model, seeing girls in sport on screen, diversity, and the importance of female representation in the industry.
Molly Broadstock, who plays Bella, responded:
"If it happens in real life, it should happen on screen. Every person should be able to see themselves, represented in an empowering way on screen – it's very important. Gender and diversity are things that should be explored, especially in children's TV, as it has such a big impact on how you grow up."
Upon hearing that the Mustangs series was comprised of 61% female cast and crew, students from all-girls school, Mary MacKillop College, were keen to hear from the cast on how women can prepare for careers in the film and TV industry. Emmanuele provided some key advice in response:
"Stick with your fellow girls. Find your friends and find mentors. See someone who's in a position you want to be in, reach out to them. So many times people are going to be willing to help you out. Listen to how they got where they are. Women need to support one another. It's really special to have someone to believe in you and help you get to where you want to be", she said
Kerry Radice from Dunsborough Primary School in Western Australia said the webinar was an engaging stimulus for her grade six students to discuss the key themes in Mustangs FC.
"Our kids were really buzzing about having the opportunity to see the actors as real people and not a character. They are really enjoying the series and the conversations that follow are great," she said.
The webinar was live-streamed on the ACTF's Facebook page. A high-definition version of the event will be available on YouTube in the coming weeks.
The Mustangs FC series is produced by Rachel Davis and Amanda Higgs for Matchbox Pictures for ABCME. The series is distributed worldwide by NBCU and distributed to the education sector in Australia by the ACTF.
Mustangs FC is available for download to schools from the ACTF shop. Stay tuned for the release of our upcoming education resource, the Mustangs FC Teaching Toolkit.
Missed the webinar? Watch the Mustangs FC Cast Q&A below: