Nominations, festival screenings and more!

6 September 2017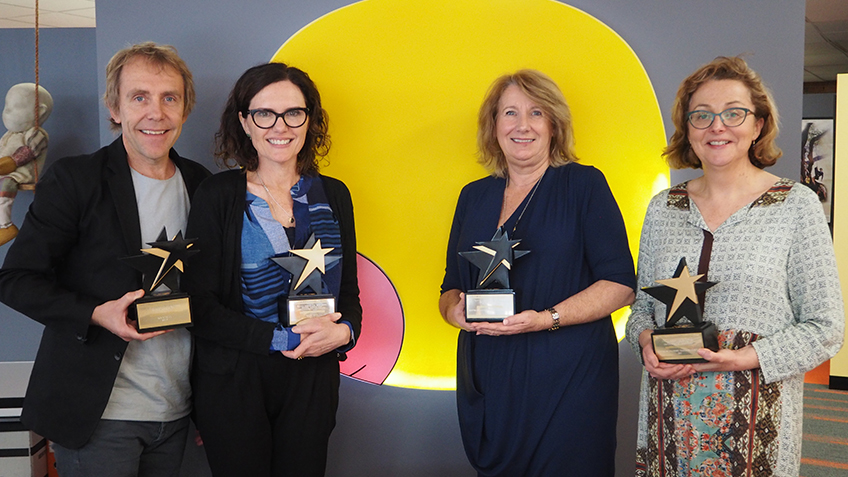 It's been a week full of special events from the festival circuit.
The Chicago International Children's Film Festival (CICFF) will be screening four episodes from ACTF supported shows at this year's festival! Disney's hit series Balloon Barnyard (Like A Photon Creative) and NITV's local favourite, Little J and Big Cuz (Ned Lander Media) have been accepted for the pre-school program. After winning last year's Children's Jury Prize, Little Lunch (Gristmill) will return to CICFF, with both "The Nightmare Before Graduation" and "The Halloween Horror Story" accepted for screening. Congratulations to all the teams who brought these series to screen. CICFF is the largest children's film festival in North America, and recognises its top submissions with both professional and children's jury prizes throughout the festival in October.
The ACTF hosted an awards presentation for the very first time this week when Lee Gluckman, Chairman of the US Film & Video Festival, made a special visit to recognise Little Lunch. "The Nightmare Before Graduation" picked up a Gold Camera Award and a Best of Festival (Entertainment) Award in June, which Lee personally presented to Gristmill producers Robyn Butler and Wayne Hope. Lee's visit offered a great insight into the inner workings of this 50 year old festival, whose judges were taken by Little Lunch; "The first time I saw it, I thought; I've never seen anything so beautiful before." Lee said.
To cap things off, the Little Lunch Graduation Special has also been accepted as a finalist in the 2017 Japan Prize! Run by Japanese broadcaster NHK, the Japan Prize recognises creative programming with high educational values and positive social themes. This will be Little Lunch's second time as a finalist in the prize, with the results to be announced in October.