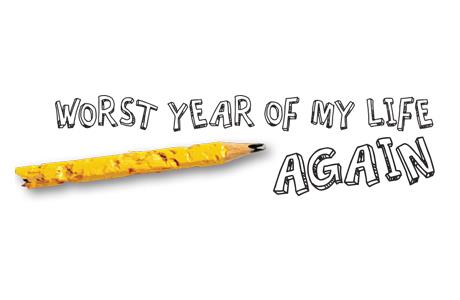 The new comedy kid's drama The Worst Year of My Life, Again has wrapped up a 'fantastic' 14 weeks of filming around Melbourne and is now in post-production.

The 13-part series is a co-production between the ACTF and Reflective Pictures for ABC3 and CBBC.

New young actors - Ned Napier, Laurence Boxhall and Tiarnie Coupland star in the lead roles.

Alex King (Ned Napier) has had a horrible year - humiliated by his teachers, targeted by bullies and embarrassed by attempts to impress the most popular girl in school.
So when he wakes up on his birthday to discover that somehow time has reset itself, he can't believe he must relive every miserable moment of the past 12 months once more.

Until his friends Simon Birch (Laurence Boxhall) and Maddy Kent (Tiarnie Coupland) convince him he's being offered a second chance and maybe this time round, he can get it right.

"We could not have imagined a more professional and perfect cast of young actors to inhabit the world of Alex King and his Worst Year - Ned, Tiarne, Laurence and all the young actors were a delight to work with and most were making their television debut on the series," said Bernadette O'Mahony, Head of Development and Production at ACTF.

The Worst Year of My Life, Again will screen on ABC3 early 2014...