Hoopla Doopla! A ceremony in Beijing!

24 April 2013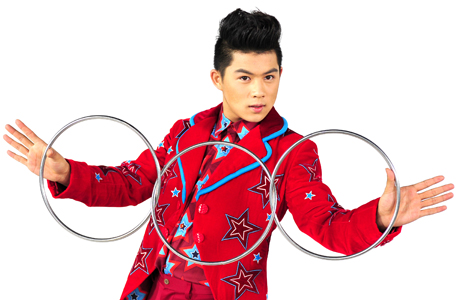 Filming has started on the exciting ABC-CCTV co-production Hoopla Doopla! To mark the occasion a ceremony was held in Beijing 23 April.
Hoopla Doopla! is being produced by Melinda Wearne and Ron Saunders from Beyond Screen Productions Pty Ltd and the China Central TV Screen Drama Production Centre. The ACTF provided script development investment to the series from its early stages and will now distribute the series worldwide on behalf of the Australian and Chinese partners.
The directors of the series are Mark Barnard (Australia) and Liang Tong (China) and they are working with an Australian and Chinese cast and crew. The scripts were written in Australia, the shoot is being carried out in a studio in China, and the post production will be carried out in Australia.
The ceremony in Beijing was attended by Her Excellency Ms Frances Adamson, Australian Ambassador to the People's Republic of China; James Spigelman, the Chairman of the ABC; Mark Scott, the Managing Director of the ABC; Hu Zhanfan, the President of CCTV; Luo Ming, the Editor-in-Chief of CCTV; Janet Holmes à Court, the Chairman of the ACTF; Jenny Buckland, CEO of the ACTF; Mikael Borgland, CEO and Managing Director of Beyond International Ltd; Xue Jijun, the President of the CTPC; Zhuang Dianjun, the Supervisor of the CCTV Children's Channel; the Australian and Chinese cast and crew and many other distinguished guests from CCTV, the Chinese Ministry of Foreign Affairs, and the State Administration of Radio, Film and Television.
At the signing ceremony Janet Holmes à Court, Chairman of the ACTF said:
"There is a great story in its own right about all of these organisations working together to realise and build on an original idea.
Perhaps best of all, it is now a creative partnership between a wonderfully talented Chinese and Australian cast and crew, each bringing their great skill, expertise and cultural experiences together, to create something really special for our youngest viewers in both countries.
The Australian Children's Television Foundation is very proud to be involved and is looking forward to taking this production to the world. We have sold Australian children's television productions to more than 100 countries in the world, from Austria to Zimbabwe, France to Mexico. And from what I have seen today I am sure that little children everywhere will be wanting to get inside their TV sets to visit the wonderful world of Hoopla."
...