Hardball Creators & Cast Q&A Webinar
Thu 28 Oct 2021, 12:00pm - 12:30pm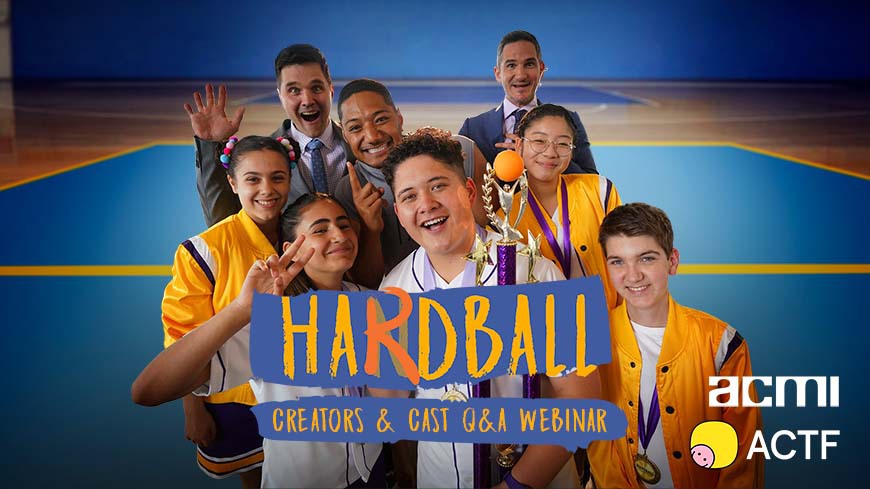 This Media Literacy Week, join our free student webinar to find out about the creation of Hardball Series 2. Students will learn how the series communicates meaning and viewpoints to gain insight into the media production process. Years 3 - 6 teachers and students are invited to submit questions for Matt Zeremes and Guy Edmonds (series creators, writers and cast members) and cast members Erin Choy (Tiffany) and Semisi Cheekam (Mikey) ahead of the event.
Date: Thursday 28 October
Time: 12pm - 12:30pm AEDT
Year levels: Year 3-6
Cost: Free
For further details:
education@actf.com.au
Australian children's comedy series Hardball premiered in 2019, following fish-out-of-water Mikey in his mission to become Western Sydney's top handball player. The series was embraced by local and international audiences, going on to win top children's media awards including the 2020 International Emmy Award for live action kids' programs.
Hardball Series 2 (now streaming on ABC iview) sees Mikey and the gang go on an epic adventure to win an even more epic state doubles handball tournament. Life is 'skux as' for the Block Street crew… except for the arrival of twin sporting villains, a problematic scholarship opportunity for Mikey and the end of primary school looming.
Hosted by ACMI Education and the ACTF, this Q&A webinar will engage young Hardball fans while developing their knowledge of media representations, audiences and languages.
Registrations are now open. Sign up here.
Additional Resources
The Hardball Series 2 Teaching Toolkit is now available. The Hardball Series 2 Teaching Toolkit will support Year 3–6 teachers and students to engage with learning tasks for each Content Descriptor in the Australian Curriculum: Media Arts. In addition, General Capabilities in the Australian Curriculum are also addressed and specified under the respective content descriptor.