Fri 01 Jun 2018, 1:30pm - Fri 15 Jun 2018, 2:15pm
Over three sessions, students will develop their skills as a sketch comedy script writer, hear from a guest script writer, and use the Sketch-O-Matic website to record their ideas.
Workshops are open to upper primary class groups and will provide students with opportunities to connect with other students from around Australia while honing their skills as the entertainment writers of the future.


Workshop Outline
Workshop 1: Friday 1 June, 1.30pm - 2.15pm AEST:
This introductory session encourages students to deconstruct their own knowledge of sketch comedy and build an understanding of its purpose. Students will engage withYou're Skitting Me as a multimodal text for enjoyment and analysis.
This workshop is one of three in the 'Script Writing Workshops for Students' series. Participants are required to attend all three workshops.
Workshop 2: Friday 8 June, 1.30pm - 2.15pm AEST:
A special guest will talk through their experience of being a writer for Australian television.
From this presentation, students will develop an understanding of how events, situations and people can be represented from different viewpoints to persuade the viewer to think and feel a certain way. Students will also begin to understand the way TV and comedy can introduce and reinforce awareness in the viewer of certain issues, popular culture, and current affairs.
Workshop 3: Friday 15 June, 1.30pm - 2.15pm AEST:
Students use the Sketch-O-Matic to start combining ideas, images and language features to express their ideas, experiences and observations. Students then have an opportunity to share their sketch comedy script with kids from all over Australia!
Participants are required to attend all three workshops.
Cost
$50 per class (30 students max)
These sessions make use of content from the You're Skitting Me series, produced by Cordell Jigsaw Zapruder (CJZ) for ABC ME.

To ensure greater accessibility, the price of the Workshop Package has been subsidised. Each class booking of three workshop will receive: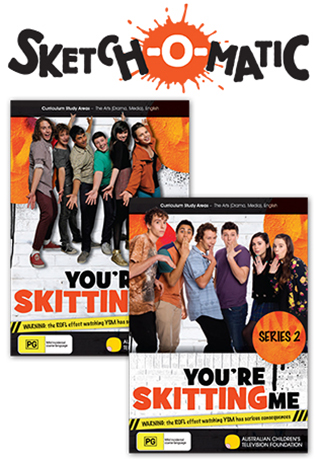 You're Skitting Me Series 1 & 2 (RRP:

$75.00)

Class access to the Sketch-O-Matic teaching website
3 x Scriptwriting workshops for students
This event is a partnership between ACTF and ACMI (Australian Centre for the Moving Image) and is supported by the Victorian Department of Education and Training.
Presenter
Garry Westmore, ACMI
Each workshop has been aligned with the Australian Curriculum, so educators can be assured that content of the workshops is relevant while being authentic to students with the use of current media that kids are familiar with and that they find entertaining and engaging.
Register now
Email education@actf.com.au with your name, school name and number of students. Hurry, places are limited!