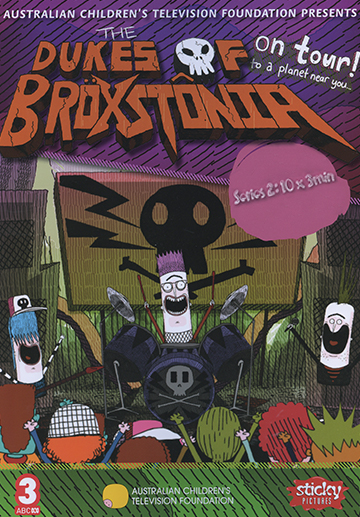 Dukes of Broxstonia - Series 2 - Digital Download
The Dukes are the hottest band to come out of Broxstonia in years. In fact, they're the only band to come out of Broxstonia - ever!
The band is composed of teenagers, Arj, Barj, and Larj. And now, thanks to the generosity of the Broxstonian government, they're on tour, spreading their uniquely punk thrash sounds to the world.
In the original 10x45 second shorts, the Dukes made a Bröxstônia-sized impact screening at animation festivals in Australia, Korea and the UK.
Now in a longer series of three-minute episodes, we'll get the chance to enjoy more insane hijinks of Arj, Barj and Larj, as they brox-on!
Curriculum links include:
English (imaginative texts, prediction, narratives, events)
Media Arts (animation, sound effects, music)
Running time: 10 x 3 mins
Product Type: TV Series 1080p Files
ISBN: DOB2HD
Price: $11.50
---