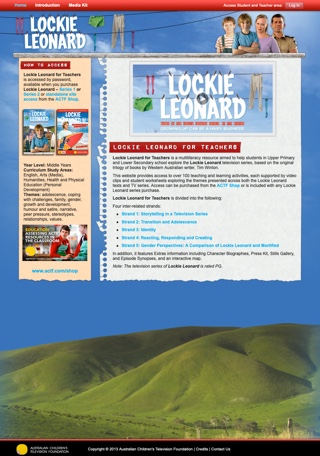 Lockie Leonard for Teachers - Website Access
Lockie Leonard for Teachers is a multiliteracy resource aimed to help students in Upper Primary and Lower Secondary school explore the Lockie Leonard television series, based on the original trilogy of books by Western Australian writer, Tim Winton.
This website provides access to over 100 teaching and learning activities, each supported by video clips and student worksheets exploring the themes presented across both the Lockie Leonard texts and TV series. This website can be accessed through this one-off purchase of $5, or free with any order of a Lockie Leonard DVD or digital download from the ACTF Shop.
Product Type: Website Access
ISBN: LOCKIEWEB
Price: $5.00
---